August 11, 2022
Our investment in early childhood is an investment in our community's future. Together, we can help grow thriving children, thriving young families, and a thriving Valley.
High on my list of reasons for young families like mine to love the Valley are the high-quality early childhood education options available to us. Between them, my two kids attended three preschools—each one a truly exceptional experience. I thank all of my kids' early childhood teachers for the incredible start they provided my kids, setting them up for a lifelong love of learning.
However, I sat down recently with a group of directors representing our local child care centers to discuss their challenges, and it became clear: we've also got serious work to do.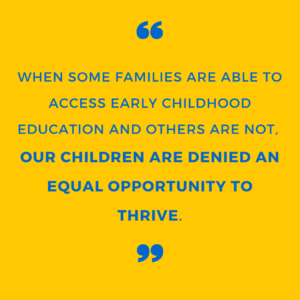 Expanding Access
Foremost among our tasks is ensuring access to care options for all families. Many of my neighbors here in Conway may be surprised to learn that despite the large number of childcare centers in our Valley, there is still significant unmet need—multiple childcare centers report having wait lists 40–50 families long, and the shortage is particularly acute for infant and toddler care. Furthermore, this likely undercounts the unmet need, because many families who might otherwise seek care have already been priced out of the market.
What are the consequences of this unmet need for our community? First off, parents who might otherwise make the choice to return to work delay their reentry into the labor force. Not only does this exacerbate local workforce shortages, it puts a pause on the career development of young people, particularly young women, who are statistically more likely to stay home with their young children than men.
But even more important than the economic impact on families and our community is this: when some families are able to access early childhood education and others are not, our children are denied an equal opportunity to thrive.
New Hampshire's Child Care Scholarship Program aims to level the playing field by providing financial assistance to low-income families who otherwise could not afford care. The program makes an important impact. However current income thresholds and co-pay requirements do not sufficiently address families' needs. Our local directors report many families leaving the workforce and withdrawing their children from care because this assistance is still insufficient given prevailing wages in our area. Eligibility is also limited to those parents working or seeking work—this may seem reasonable but ignores the needs of the many children in our area residing with grandparents or other retired caregivers. Surely these children are no less deserving of access to early childhood learning opportunities?
The scholarship program also reimburses centers on the basis of children's attendance rather than enrollment. The reality this creates on the ground is that many centers, particularly smaller centers, have been forced to stop accepting scholarship funds, because when children have prolonged absences due to illness or quarantine, it leaves a significant hole in their tight budgets that puts their centers at risk.
Workforce Sustainability 
In addition to access challenges, our childcare centers struggle with workforce sustainability. Perhaps the most vivid illustration of this problem is hearing from multiple directors who recounted how staff have resigned because they could not afford childcare for their own infants on the wage they were making. (Could there be a clearer indicator that something is amiss?) Directors also report staff refusing raises to preserve their access to federal healthcare benefits.
These professionals dedicate their lives to taking care of our youngest children, and yet we can't seem to get our act in gear as a state to take care of them.  
Charting a Path
It doesn't have to be this way. Making it better will take time and effort, but we can start by exploring some simple fixes. Let's adjust scholarship income thresholds and copays so that more young parents who would like to return to work are able to do so. Let's expand eligibility to cover retired caregivers. (And while we're at it, let's ensure employees at childcare centers are eligible, so we don't force passionate educators off their career path when they become parents themselves!) Let's follow through on already proposed legislation that shifts scholarship reimbursement to centers from an attendance to an enrollment basis. And let's explore new ways to incentivize centers to expand capacity and help workers to stay in the field.
Our investment in early childhood is an investment in our community's future. Together, we can help grow thriving children, thriving young families, and a thriving Valley.